Q-PHASE for live cell imaging
The Q-PHASE is a unique instrument for quantitative phase imaging (QPI) based on patented technology of Coherence-controlled holographic microscopy.

The Q-PHASE is designed to observe living cells in vitro. It's a multimodal holographic microscope (MHM).

Q-PHASE is aimed at applications in the area of live cell imaging, with emphasis on cell biology, cancer research, drug testing and necrobiology; all these, rapidly developing areas of research where this remarkable QPI technique could undoubtedly contribute to major findings and interesting results. Based on a robust inverted transmission microscope platform, the Q-PHASE enables multiple imaging modes with fully integrated Fluorescence, simulated DIC and brightfield imaging, features of which position Q-PHASE as a valuable research tool for biological and biotechnological applications.
The Q-PHASE's software is an integral part of this microscope. It is divided into two modes, Live and Data-set, which provide all the necessary functionality for experimental measurements, image processing and analysis. Simple graphical interface with tabs allows easy orientation. Exporting images to standard formats allowing to process and analyze the images with third party software.
Full microscope control (focusing, sample stage, objective exchange, fluorescence channels, light-source, shutters, camera settings)
Multidimensional image acquisition (time-lapse, channel, position, Z-stack)
GPU accelerated real-time holographic image reconstruction
Multidimensional dataset viewer
Image processing and analysis
Microscope control with control panel
User management
Microscope alignment wizard with automatic procedures
Microscope incubator control
QPHASE APPLICATIONS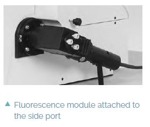 Fluorescence module

The Q-PHASE can combine holographic microscopy with the fluorescence microscopy. This powerful combination provides the possibility to verify structures or processes observed in QPI with fluorescence microscopy in the same field of view using a single instrument.


Incubator module
Microscope incubator with computer temperature setting and temperature data logging
Stage top incubator for precise control of temperature, humidity and CO2 concentrations