S8000
Highest Resolution, best conditions for microanalysis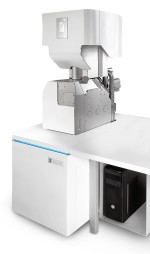 The New TESCAN S8000
Ultra-high resolution and best conditions for microanalysis guaranteed in one single instrument.
The TESCAN S8000 is a Scanning Electron Microscope (SEM) that comes to satisfy the most demanding needs for image quality and sample microanalysis that routinely arise in different fields of research and technology. Researchers can now benefit from all the advantages of field-free ultra-high resolution achieved by the new TESCAN BrightBeam™ SEM column technology that delivers excellent beam quality at all beam currents and first-class imaging performance with outstanding contrast at low beam energies. The new TESCAN Essence™ software platform is the key component which makes the TESCAN S8000 an easy-to-use microscope; excellent images can be obtained effortlessly and quickly by any user thanks to its customisable and simplified GUI and workflow-oriented wizards that guarantee high productivity in your lab and minimal time-to-data.

When it comes to versatility, the TESCAN S8000 microscope delivers a truly flexible analytical platform that offers excellent quality in imaging with superb contrast. Whether your samples are conductive or nonconductive, magnetic or nonmagnetic, organic or inorganic, the TESCAN S8000 offers the ideal imaging conditions thanks to its advanced detection system with electron-signal filtering capabilities and variable pressure operations.
Key features
New BrightBeam™SEM column technology for uncompromised UHR

New BrightBeam™ SEM column with proprietary 70° combined electrostatic-magnetic objective lens for maximum universality.

Field-free ultra-high resolution imaging for maximum versatility in imaging and analysis including the investigation of magnetic samples.

New detection system including In-Beam Axial detector and Multidetector for angle-selective and energy-selective electron signal collection gives complete control on surface sensitivity and the option to explore with different contrast.

New Field Emission Schottky electron gun now enabling electron beam currents up to 400 nA and rapid beam energy changes.

Extended electron beam energy range down to 50 eV without relying on sample bias beam deceleration.
New generation of electronics with up to 8 live signal channels simultaneously.

EquiPower™ lens technology for efficient thermal power dissipation and excellent electron column stability.

Beam Deceleration Technology (BDT) for further improved resolution at low and ultra-low electron beam energies with simultaneous detection of SE and BSE signals. (optional)

New Essence™ software platform and streamlined GUI with application-specific customizable layout, workflow-oriented wizards, 3D collision model, quick search box, SEM undo-redo, innovated report template editor, image processing, multi-user environment localized in many languages.

New TESCAN Essence SW platform
The new Essence makes imaging easier than ever.

Main Benefits:

Simplified GUI with fast access to main functions

Workflow-oriented wizards

Easy-to-learn and customisable; new user is productive within a short time

Optimised for multi-user environment

Maximum control in applications

3D collision model for unique chamber view