FIB-SEM dual beam systems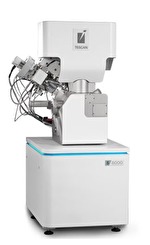 S800G A New Generation FIB/SEM from TESCAN

Equipped with a new SEM column, the S8000G let you profit and enjoy the benefits and versatility that come with field-free ultra-high resolution imaging including the analysis of mag­netic samples and live SEM monitoring of your FIB operations.

The BrightBeam™ SEM column delivers field-free ultra-high resolution imaging while maintaining universality in sample imaging and analysis

A new FIB column fitted with state-of-the-art ion optics and the gas injection system makes S8000G a world-class instrument for sample prepara­tion and nano-patterning. Novel Orage™ FIB column featuring cutting-edge ion optics achieves ultra-high resolution over the entire beam energy range

The new TESCAN Essence™ software platform is the key component which makes the TESCAN S8000 an easy-to-use microscope; excellent images can be obtained effortlessly and quickly by any user guaranteeing high productivity in your lab and minimal time-to-data.
En Key S8000G FeaturesKvvliten rubrik.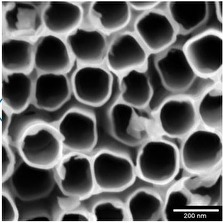 Key S8000G Features
SEM COLUMN
Versatile system for unlimited applications:
The BrightBeam™ SEM column delivers field-free ultra-high resolution imaging.
Superb image contrast and ultra-high resolution essential to resolve nano-sized features for the characterisation and analysis of nanostructures, nanoparticles, and nanomaterials as well as for failure analysis of microelectronic devices.
Detection system with angle-selective and energy-filtering capabilities gives you complete control on surface sensitivity and the option to explore with different contrast for sharpening your senses and deepening your insight.
Maximum protection for delicate specimens.
Excellent imaging performance at low beam energies ideal for imaging non-conducting samples and uncoated biological specimens. Variable pressure operations also available.
High electron beam currents up to 400 nA are advantageous for microanalytical techniques such as as CL, EDS, WDS and EBSD.
EquiPower™ lens technology assuring constant thermal power dissipation for excellent stability in time-consuming applica­tions such as FIB tomography or X-ray microanalysis.
FIB COLUMN
World-class quality in sample preparation.
Novel Orage™ FIB column featuring cutting-edge ion optics achieves ultra-high resolution over the entire beam energy range and excellent performance at low energies for preparing damage-free ultra-thin TEM specimens.
With ion beam currents up to 100 nA you can slash by half the time for completing your cross-sectioning and lamella lift-out processes.
Dedicated software enables you to perform three-dimension­al sample reconstructions with extreme ease and speed, and provides you with unique ultra-structural information of your samples.

SOFTWARE
Boosting productivity and throughput:
Easy-to-learn and workflow-oriented software for maximum control in all your applications and minimum time-to-result.
The LYRA3 FEG is a favorable combination of SEM and FIB for demanding users. It is based on a high resolution Schottky FEG-SEM column and a high performance FIB column.

This new generation of field emission scanning electron microscopes (LYRA3 series) provides users with the advantages of the latest technology, such as new improved high-performance electronics for faster image acquisition, an ultra-fast scanning system with compensation for static and dynamic image aberrations or built-in scripting for user-defined applications, all the while maintaining the best price to performance ratio.

Analytical Potential
XM chamber model provides superior specimen handling using a full 5-axis motorized compucentric stage and ideal geometry for EDX and EBSD
Option of extra-large XM chamber with robust stage able to accommodate large samples
Numerous interface ports with optimized analytical geometry for EDX, WDX and EBSD as well as for attaching many other detectors
First-class YAG scintillator-based detectors
Selection of optional detectors and accessories
Full operating vacuum can be obtained quickly and easily
Investigation of non-conductive samples in variable pressure mode versions, favorable conditions for the investigation of magnetic samples, non-distorted EBSD pattern compared to immersion magnetic lenses
Integrated active vibration isolation ensures effective reduction of ambient vibrations in the laboratory.
A SEM with Schottky field emission cathode in combination with gallium Focused Ion Beam (FIB) column and optionally with Gas Injection System (GIS). Oustanding optical properties, flicker-free digital image with super clarity, sophisticated user-friendly software for SEM/FIB/GIS control and image capturing with easy image management, processing and measurements, automatic set up of the system and many other automated operations are characteristic features of the equipment.

Analytical Potential
High brightness Schottky emitter for high-resolution / high-current / low-noise imaging
Extraordinary resolution with powerful optional In-Beam SE Detector
Unique three-lens Wide Field Optics™ design offering the variety of working and displaying modes embodying the TESCAN proprietary Intermediate Lens (IML) for the beam aperture optimization
Real time In-Flight Beam Tracing™ for the performance and beam optimization integrating the well-established software Electron Optical Design. It includes also direct and continual control of beam spot size and beam current
Fast imaging rate
Beam Deceleration Technology (BDT) for excellent resolution at low beam voltages (optional)
In-Beam BSE Detector for BSE imaging at very short working distances (optional) suitable even for ferromagnetic samples imaging
High-throughput large-area automation, e.g. automated particle location and analysis
Superior specimen handling using a motorized compucentric stage
Ideal geometry for EDX and EBSD; non-distorted EBSD pattern
Fast and easy obtaining of the clean chamber vacuum by powerful turbomolecular and dry fore vacuum pump; electron gun pumping by ion getter pump
Fully automated microscope setup including electron optics setup and alignment
Network operations and built-in remote access/diagnostics, all come as the TESCAN standard
Unique live stereoscopic imaging utilizing the 3D Beam Technology
Extended low vacuum mode with chamber pressure up to 500 Pa for non-conducting specimens imaging
Unique ion optic column differentially pumped (2 ion getter pumps) for ultra-low ion scattering effect
Motorized aperture changer in ion column with ultra-high reproducibility
Beam Blanker and Faraday cup included as standard accessories for ion column
Ultra-high resolution and excellent performance at high current with optional Cobra column
Automatic FIB cutting and signal acquiring followed by 3D reconstruction (tomography), allowing 3D EBSD, 3D EBIC etc. with integrated 3D visualization
Sophisticated software for SEM/FIB/GIS control, image acquisition, archiving, processing and analysis; multi-user environment localized in many languages
3D FIB tomography is a method specific to FIB-SEM systems. It is based on serial SEM imaging of FIB-prepared cross-sections and subsequent 3D reconstruction and visualization All the necessary steps are fully automated in the new 3D Tomography software module.

The 3D Tomography software module is a fully integrated part of TESCAN control software. The module consists of :
Milling and image acquisition wizard
Data post-processing
3D reconstruction and visualization